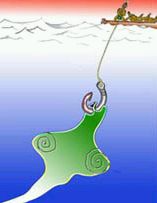 For this activity I have just landed in New Zealand. I went on this
link
and it will take me to a website I could read all about the story Maui and the giant fish. After reading this I found 3 interesting facts about this story.
1 - Maui would always get angry when the brothers won't let him go fishing with them.
2 - Maui's ancestor Murirangawhenua gave Maui a jawbone.
3 - Beacause the brothers were so greedy this story has been a part of Aotearoa.